[box type="success" width="100%" ]Things are much easier in the new Azure portal and you can learn more in the
updated version.
[/box]
In Azure portal, if your account contributes to other azure subscriptions, you are allowed to switch from one to another using a drop-down menu at the top left corner.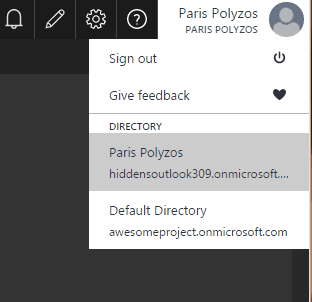 Problem is that by default the name used in Azure Active Directory is "Default Directory" which seems a little confusing.
In order to change it to something more meaningful you can use the old windows azure portal, (not available at the moment in the new one) to rename "Default Directory" to something more distinct.
Configure Azure "Default Directory" name
Navigate to manage.windowsazure.com

From the right side menu, select "Active Directory" and select the account you wish to make changes to:

From the top menu select "Configure", set a new "Name" and click "Save" button at the bottom

Now, "Default Directory" has changed to "Awesome Project"